Minecraft: multiplayer and ultra-high definition for Microsoft's flagship game
On the occasion of E3, the big annual video game show, Microsoft presented an update to Minecraft. In addition to a visual facelift, the platform will exist under a single version with which the owners of the software can play together.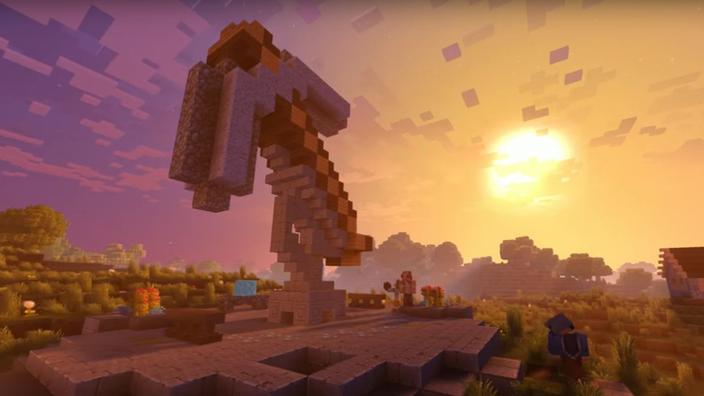 Playing is good. Playing together is even better. On the occasion of E3, the great annual mass of video games, Microsoft announced a big update to Minecraft. The latter must solve an old problem. The famous game, bought from its creator for 2.5 billion dollars, is available on many platforms. It can be played on computers (Windows 10, Linux and MacOS), on smartphones (iOS, Android and Windows Mobile) and on consoles (PlayStation, Xbox, Nintendo Switch, etc.). However, each of these devices offers different versions of Minecraft. It is therefore difficult to play with several people, as long as some are equipped with incompatible editions. This problem will soon be resolved thanks to the "Better Together Update". Minecraft will be offered in a single unified version on most platforms. This includes editions for Windows 10, Xbox One, Oculus Rift, Gear VR, iOS, Android, Nintendo Switch, Windows Phone, Fire TV and Kindle Fire.
This update is free. From this summer, only two versions of Minecraft will be available: "Minecraft", valid almost everywhere, and "Minecraft: Java Edition", the original version of the game, available on PC. The price will however depend on the platform chosen by the players. No information was given on the integration of the Playstation consoles or the Xbox 360 in this unified edition.
Microtransactions
This new feature of the game offers the player flexibility and comfort. It should also increase the number of people on Minecraft servers, to which players connect who want to compete with other Internet users. These are generally managed independently by Internet users. On Monday, Microsoft announced the creation of four new dedicated multiplayer servers. They must be launched at the same time as the update. The new version of Minecraft will also have a server search engine. We can play it in ultra-high definition.
Minecraft's business model is essentially based on single-game purchases. Microsoft is now targeting another gold mine: microtransactions, that is, spending within the platform. In April, it launched a sales site for additional features. You can buy avatars, new landscapes in which to evolve, virtual objects, etc. Microsoft takes a margin on each of these sales.
E3 was also an opportunity for Microsoft to present other novelties in video games. He unveiled his new Xbox One X, dubbed "the most powerful console in the world". It must compete with the Playstation 4, produced by Sony. The computer giant entered the video game market in 2001 with its first Xbox console. It is now diversifying its efforts in the sector. In 2016, he bought the live video platform Beam, since renamed Mixer, in order to compete with Twitch. Microsoft is also investing heavily in its Hololens augmented reality headset. For the moment reserved for professionals, the latter could eventually be used to play video games.