Minecraft: Builders and Biomes", you explore the Surface,
In "Minecraft: Builders and Biomes", you explore the Surface, collect blocks and make impressive constructions. All this requires skill and bravery: only the one who will plan his projects well and dare to face terrible monsters will have a chance to win!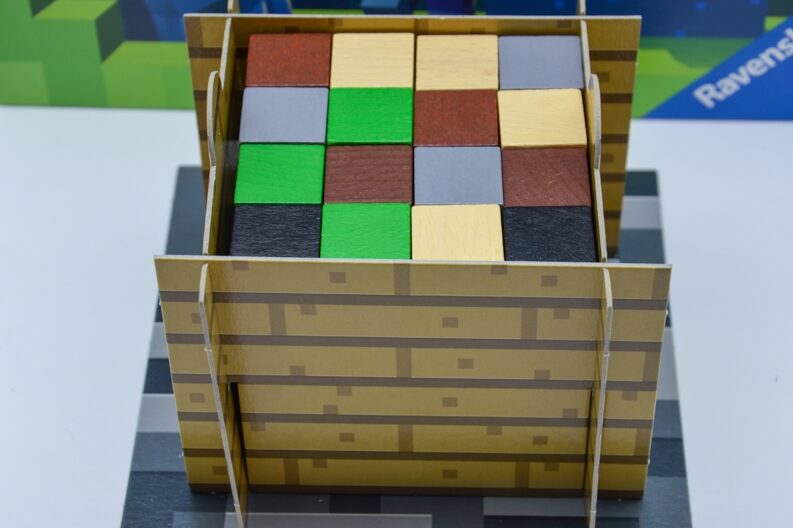 Minecraft the world famous video game for its cubic universe arrives on our tables. So, as always, the risk is to disappoint fans of the original game or to disappoint board game players. Well, the porting is successful, whether by respecting the theme and by a playful and engaging mechanism.
The box, with its green color and its illustrations, introduces the theme from the start. Its content is in the same vein and the children will dive into the universe and give you a Minecraft training by quoting you all the names of the monsters. , weapons and buildings. You may find the word Biome well known to them. The cubes are impressive for their quality and size. The rest of the material is Ravensburger quality with tiles, tops less thick than usual but in the publisher's standard. The rule is clear even if examples could have helped in some cases. But nothing blocking.
We are entitled to 2 different actions per turn to move, take a cube or a weapon, build if we have the right cubes or fight. We find what makes Minecraft. The idea is to build to obtain the most points during each count which will each time be on a different element of the game: biome (land), resource and building. Everything does not have the same value and therefore you will have to choose well according to the available tiles. All of these mechanics create an addicting, interesting game that will blow you away in the game and make you forget you don't like the theme. If that is the case.
But, there are also the fights which bring interesting bonuses. It's thematic but also interesting in the game. So we will take the risk of attacking the Creepers and other monsters in the game. It's fun because we shoot 3 weapons among those at our disposal and we need enough force to eliminate the opponent. Sometimes risk taking because we have 3 potatoes which do not add anything. It's always funny to see a player fail because of his potatoes. To respect the theme, we also have TNTs that we can detonate to eliminate the monster. We play Minecraft well.
Finally, there is also the scoring lever which can be triggered by the player who takes the last cube of a level. It is always an important choice in the game. This is tactical to reduce the value of the count for his opponents. Some will growl if it comes too soon for them. We are in a board game.
It's a Very Good for Minecraft which manages to immerse us in the universe of the same name without offering an uninteresting game. It is a successful portage that will appeal even to those allergic to cubes