Minecraft revamps its seabed with the Update Aquatic
The redesign is a not only visual sense the update finally gives interest to the miles of ocean hitherto empty that the game offered. Gone are the expanses of grsâtre sand where three octopuses at the edge of the sea. agony battling their own physics engine: seven years after its release, Minecraftfinally decides to get rid of the dying places that served as oceans. It was time. Clownfish, dolphins, turtles, and sea zombies now wade through the ruins that decorate the cubic abyss, and can be probed today By probing the oceans, players can stumble upon new items to assemble for creating a trident, make a coral hut or search for chests buried under the sand. The generation of the terrain also gives rise to much more varied environments, such as crevasses or small geysers.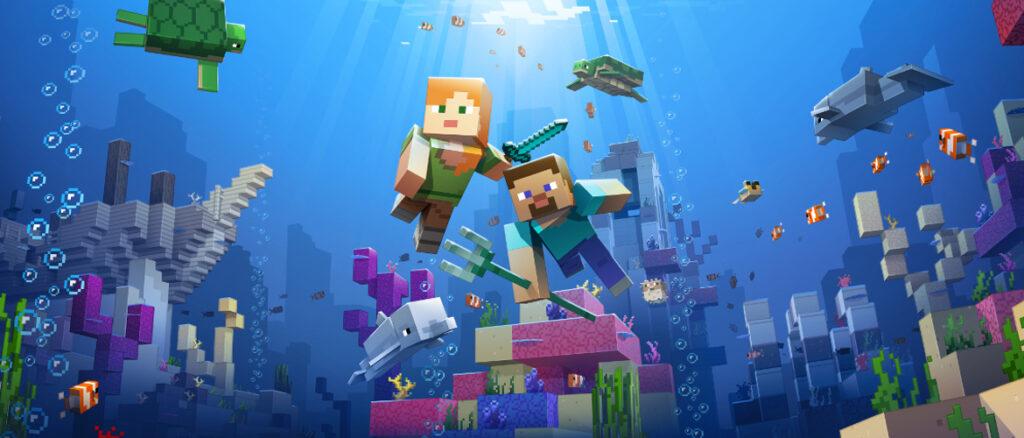 The other good news is that Mojang and Microsoft have taken advantage of the release of the update to get closer to The Nature Conservancy and a handful of YouTubers as part of a joint project. Together, they imagined and then built metal structures in the seabed (those of real-life) to encourage the propagation of coral and thus create more reefs to accommodate underwater species. The project is called Coral Craft, and it is a very nice initiative to fight against pollution, abusive fishing methods, and the destruction of the seabed while making young players aware of this kind of problem. What is less nice, however, is that Update Aquatic is currently only released on the Bedrock versions of the game (Xbox One, PS4, Switch, and Windows 10). It will be necessary to wait until the end of July for the Java version of Minecraft to be patched in turn, according to the developers.
In China, Minecraft passes the 200 million player mark
NetEase Games speaks of a "cross-cultural success" and we can well believe it in view of the figures it has just communicated. Guarantor of the activities of Mojang's game in China where it is available on PC, iOS, and Android in the form of a free-to-play, the publisher announces that 200 million players have registered
After having crossed the 100 million player mark, NetEase Games has therefore doubled the number of users who have set foot at least once in the phenomenon game which has also recently celebrated its 10th anniversary. This statistic is to be put in addition to the 176 million copies that Microsoft recently announced to have sold through all the platforms where the game is available (including mobile). Coming back to the Chinese edition, NetEase Games also announces that 25,000 mods have been developed for a total of 1.36 billion downloads by the community, and is especially pleased to see that the game has encountered no cultural barriers. .
It must be said that Minecraft was showcased in China to illustrate the glory of local culture, especially its architecture. A studio has spent three years recreating the monumental Imperial Palace of the Forbidden City using more than 100 million blocks as well as 3D printing technology to faithfully recreate the interior of this palace / museum. According to the statement from NetEase Games, another Chinese studio had used Minecraft to meticulously recreate the Cathedral of Notre Dame even before it burned down. The official Chinese Minecraft site is available