Eleven years after its release, the Minecraft game surpasses 200 million sales
Build and deconstruct endlessly, stacking blocks. This is the promise of the famous video game Minecraft, which has just celebrated its eleven years. Bought in 2014 by Microsoft for 2.5 billion dollars, the nugget of Swedish studios Mojang has not finished seducing video game lovers, on the contrary. More than 200 million copies of Minecraft (available on all media) have been sold in total, including 24 million in the last twelve months alone. In the list of the best-selling video games in history, it greatly surpasses GTA V and its 120 million copies. It now has 126 million monthly players, and retains the top spot in the ranking of the most popular video games on YouTube. Together,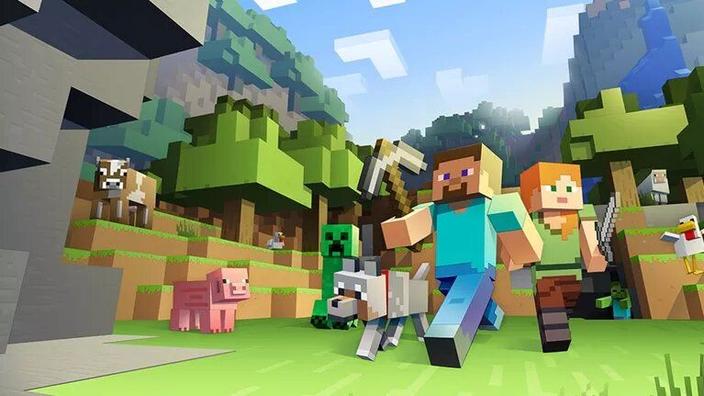 An educational platform
Like many online platforms, Minecraft has benefited greatly from containment. In April, the game saw 25% more new users compared to March, and multiplayer sessions were up 40%. While thousands of schools, high schools or universities have been forced to close their doors because of the epidemic, video games have also succeeded in offering different educational content. Its Minecraft: Education Edition version , free since March 24 and at least until June 30, has been downloaded more than 50 million times. In particular, it allowed young users to discover the basics of coding, to practice mathematics, or to virtually visit the International Space Station.
But the students didn't just wait for the platform's initiatives, some themselves figured out how to put Minecraft to good use. All over the world, young people have decided to carefully recreate their campuses to continue to follow their classes or to exchange with their classmates while maintaining a semblance of routine. In the United States, UC Berkeley has even chosen to hold its online graduation ceremony there.
Competition from Roblox and Fortnite
Schools are not the only places of culture to have made a digital transition to Minecraft. The Albi tourist office offers a weekly visit through the city's virtual alleys, and several music festivals have been organized there, with Idles, Courier Club and Massive Attack as guest stars. Minecraft has also partnered with the UN in the fight against the pandemic, broadcasting WHO messages in the game and urging users to respect barrier gestures.
The Minecraft saga is not about to end. After the launch a few months ago of Minecraft Earth, based on augmented reality, a new highly anticipated version, Minecraft Dungeons, will be available on May 26. Mojang Studios are even planning a film adaptation for 2022. But the construction video game will face increasingly strong competition. Less known but valued at more than four billion dollars, it's the main rival Roblox has more than 120 million monthly players. As for the free video game Fortnite, it has now exceeded the milestone of 350 million registered players.